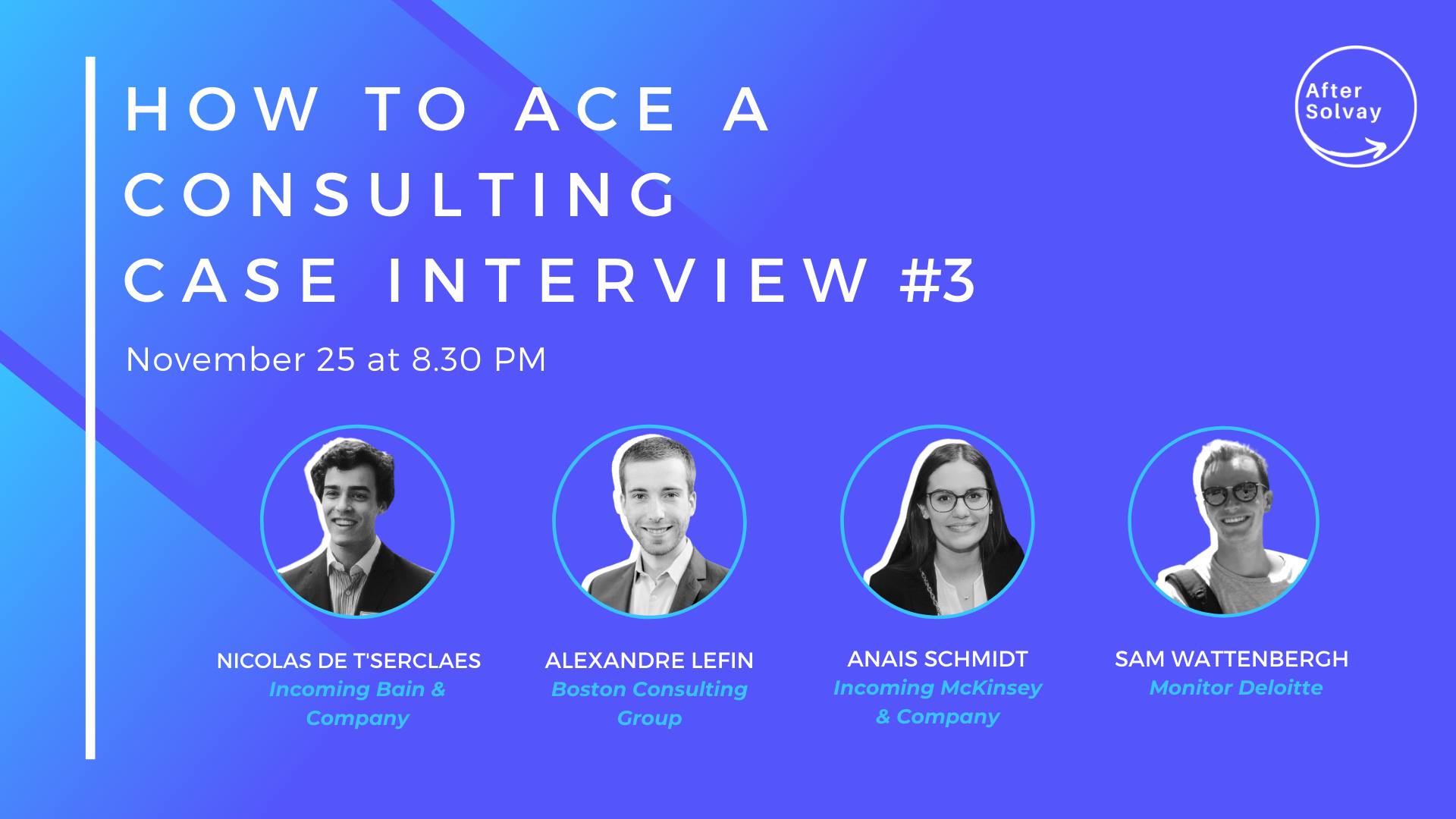 How to ace a consulting case interview ? #3
Are you a MA1, MA2 or Advanced Master's student who is currently seeking to practice for your consulting case interviews? Then this event is for you! 
 WHAT?
« How to ace a consulting case interview » is a series of workshop to prepare you for your interviews in a consulting firm. This workshop will be replicated every month to adapt to the different times students apply.
During this workshop you will quickly discover what constitutes a consulting case interview and what are the different types of interviews that you may experience, along with tips on how to ace them. After the short presentation, two future consultants will do a business case interview together to give you an example of what is expected of you!
 Please keep in mind that this workshop mainly aims to help you meet other students who, like you, are having soon their interviews in consulting. So, you will be able to practice with them after the event. For this reason, a Facebook group will be created with all participants. It is therefore not an informative event!
 FOR WHOM?
For all students enrolled in a master's degree or advanced master's program at the Solvay Brussels School and who are preparing for consulting cases/will start preparing quickly (internship or full-time job). Participants do not need to have any knowledge neither a certain level in business cases. They just have to be ready to practice and do business cases with other students.
If you just want to know how business cases work, unfortunately this event is not for you as we suggest participants to continue working on business cases after the event with the other participants.
If you want to practice but not right now, do not worry, this workshop will be held each month.
 WHEN?
The last workshop of this semester will take place on November 25, 2020 at 20:30 online. Keep in mind that other workshops will be planned, follow us to be informed!
 HOW TO REGISTER?
Register via this link before November 21, 11:59 PM. You will receive an answer on November 22 whether you can participate in this workshop or not (don't worry, there will be others). The workshop is limited to 30 people.
 SPEAKERS?
Nicolas DE T'SERCLAES (Incoming Bain & Company)
Alexandre LEFIN (Boston Consulting Group)
Anaïs SCHMIDT (Incoming McKinsey & Company)
Sam WATTENBERGH (Monitor Deloitte)
See you there! – The AfterSolvay Team