Introduction to Service Design with Deloitte Luxembourg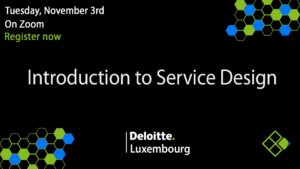 *Masters Only*
"Are you a master student eager to discover Consulting and how innovation is shaped?
Are you curious about how valuable services are designed to drive business value?
Then join us on November 3rd at 6 pm during a virtual workshop introducing you to "Service Design"!
You will have the opportunity to develop your innovative ideas through Design Thinking, have hands-on experience on real-life use cases and meet our Deloitte Luxembourg Digital Consultants"
We have a limited number of participants, please don't wait to register!
Event reserved to MA1, MA2 and Advanced Masters Students
Facilitators:
Clement Lallemand – Analyst – Deloitte Digital
Laura Duque – Consultant – Deloitte Digital
Mathieu Moes – Consultant – Innovation
Pierre Tailleur – Manager – Deloitte Digital